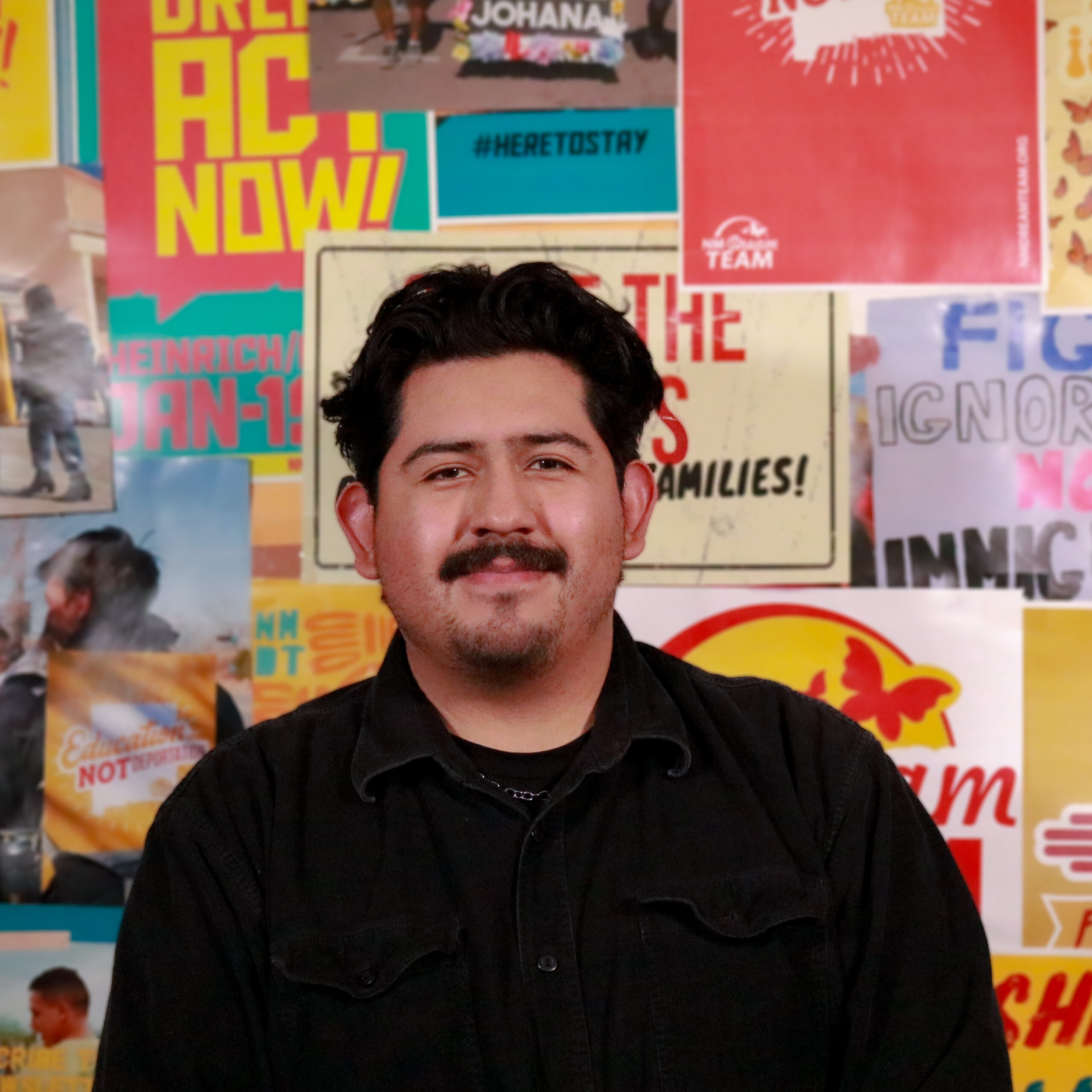 Eduardo Esquivel (He/Him/His)
Co-Director
Eduardo immigrated to Albuquerque, New Mexico with his parents at the age of seven from Chihuahua, Chihuahua, Mexico. Growing up in the South Broadway neighborhood and graduating from Albuquerque HS he developed a strong sense of community that has been a driving force throughout his life. He studied biochemistry at the University of New Mexico and is also a student of Critical Race Theory. Eduardo has been with NMDT since 2015. He has worked on training and curriculum development with a focus around education equity and racial justice and now serves as Co-Director for the organization.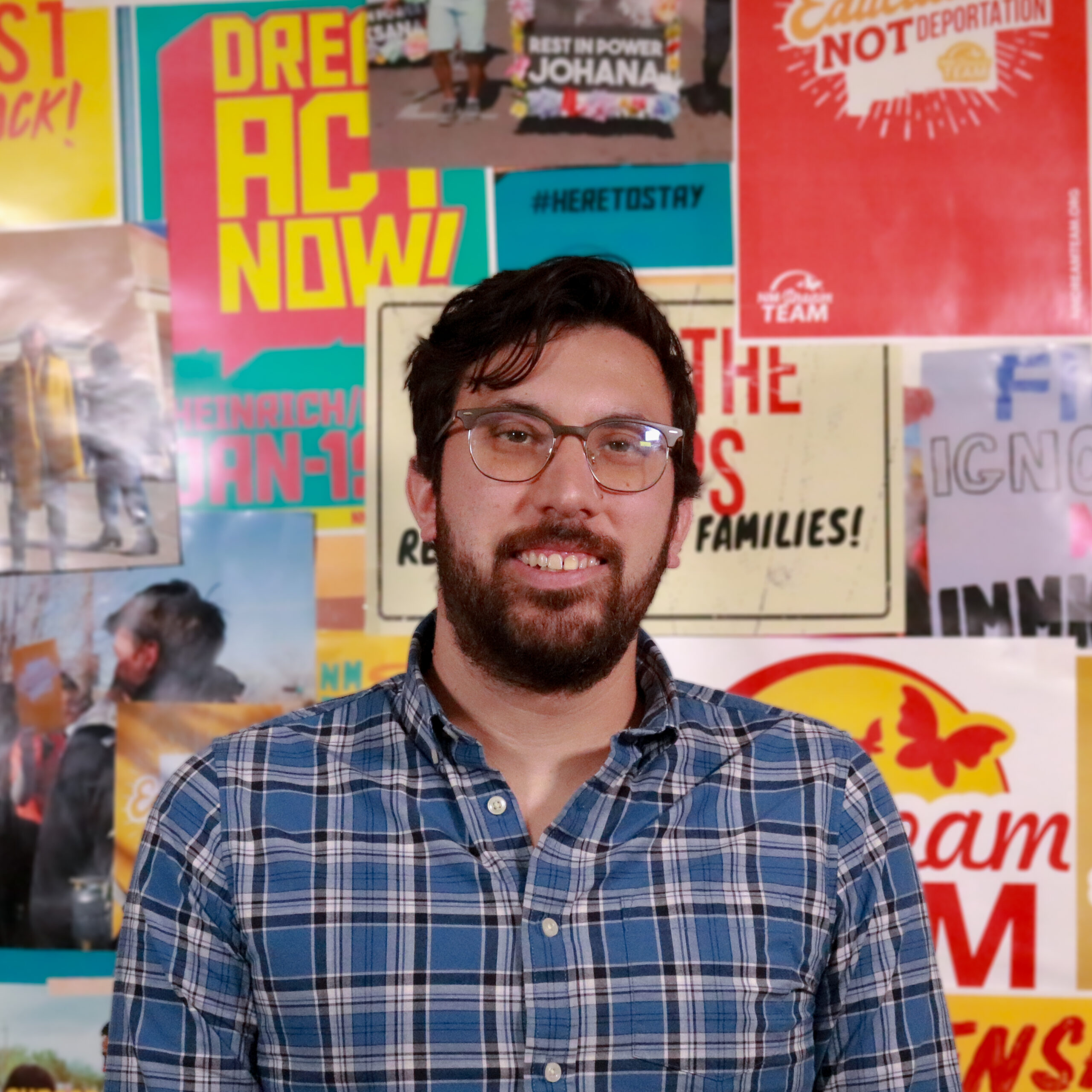 Felipe Rodriguez (He/Him/His)
Co-Director
Felipe was born and grew up next to the ocean in the beautiful port of Acapulco, Guerrero, Mexico. He immigrated to the U.S. along with his family in search for security and opportunities. He graduated from the University of New Mexico with a bachelor's in Psychology. Felipe started organizing with the NM Dream Team in 2015 and immediately fell in love with the work of the organization. He believes in the power of community organizing, intersectionality, and activism to win the fight for immigrant rights and social justice.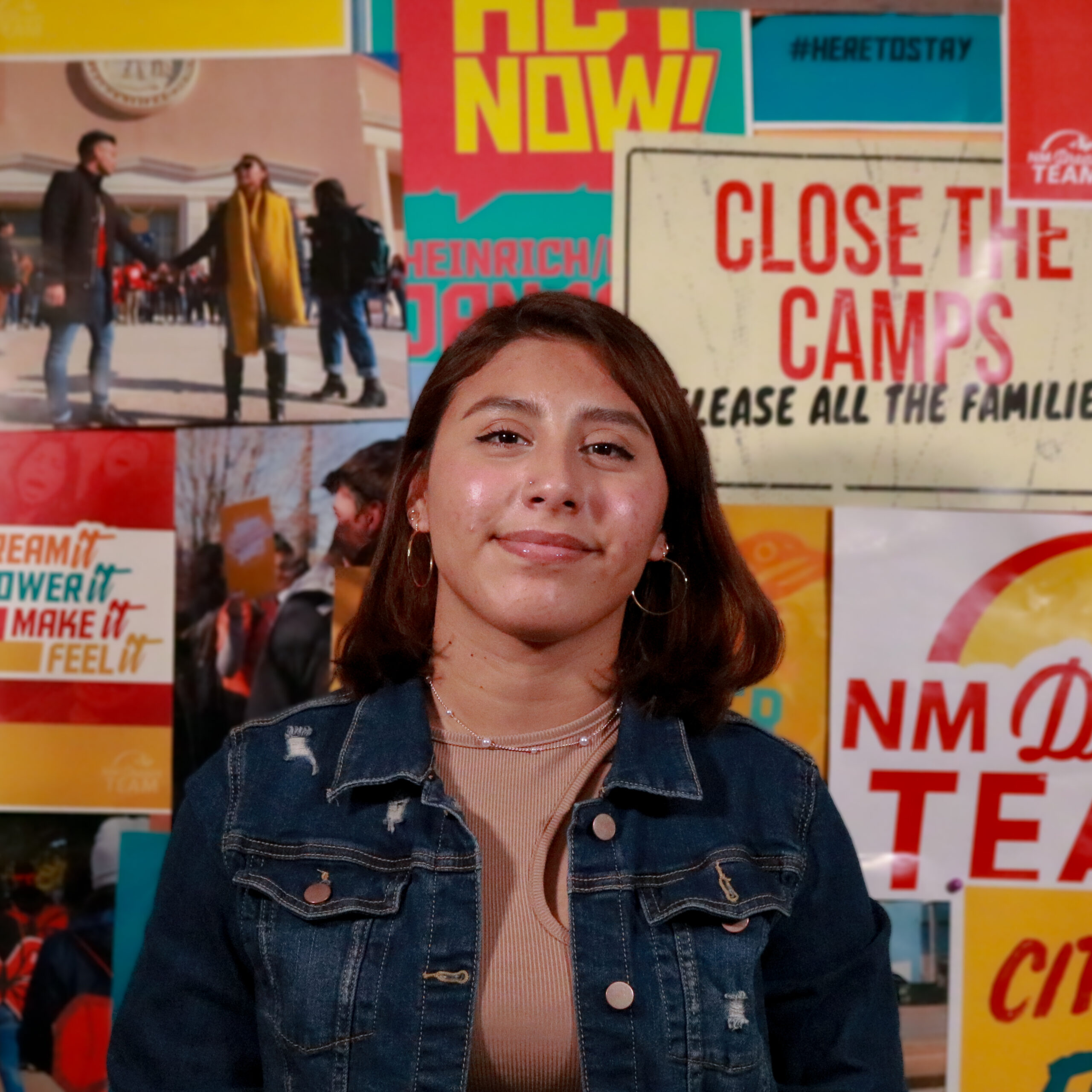 Michelle Murguia (She/Her/Ella)
Field Manager
Michelle is an undocumented young woman who came to the United States with her two younger siblings and her mother in 2010 pursuing the dream of having a better life without fear, with more opportunities, and a better future.  Michelle started getting involved in the NM Dream Team when she was 15 years-old and found her passion helping her community and feeling fearless.  Today Michelle is Field Manager for the NM Dream Team and organizes more young people to leave fear behind and fight for their voices, their dreams, their family and future generations.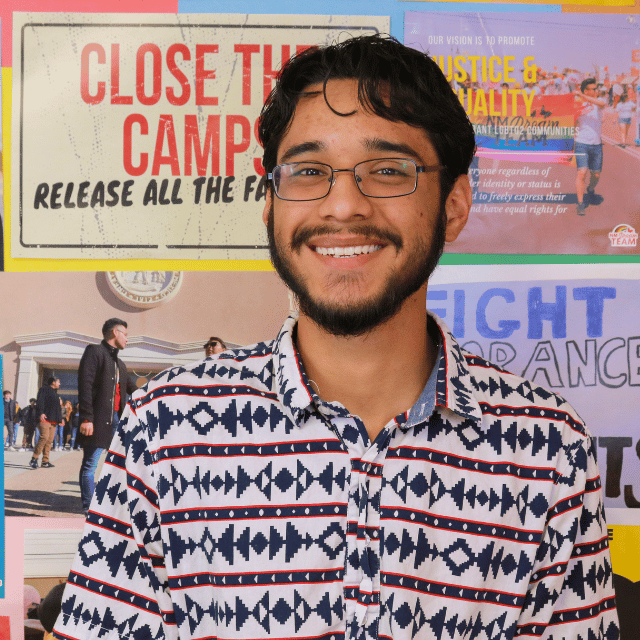 Jovanny Hernandez (He/Him/His)
Southern NM Fiel Organizer
Jovanny Sebastián Hernández, esta en su último semestre de la universidad, donde esta estudiando Ciencias Políticas con un enfoque en la Ley Pública. Hoy vive en Las Cruces, pero originalmente es de Hobbs, NM. Antes de mudarse a Nuevo México en 2010, vivía en Kansas y Texas. Su familia se mudaba mucho debido a la naturaleza del trabajo de su papá en las norias de aceite. Like many kids who grew up with immigrant parents, he grew up in a bilingual household. Jovanny is drawn to this work because of them, and because of where he lives and have matured. To help in any way, those who struggle for a better life for themselves and their families, is his goal!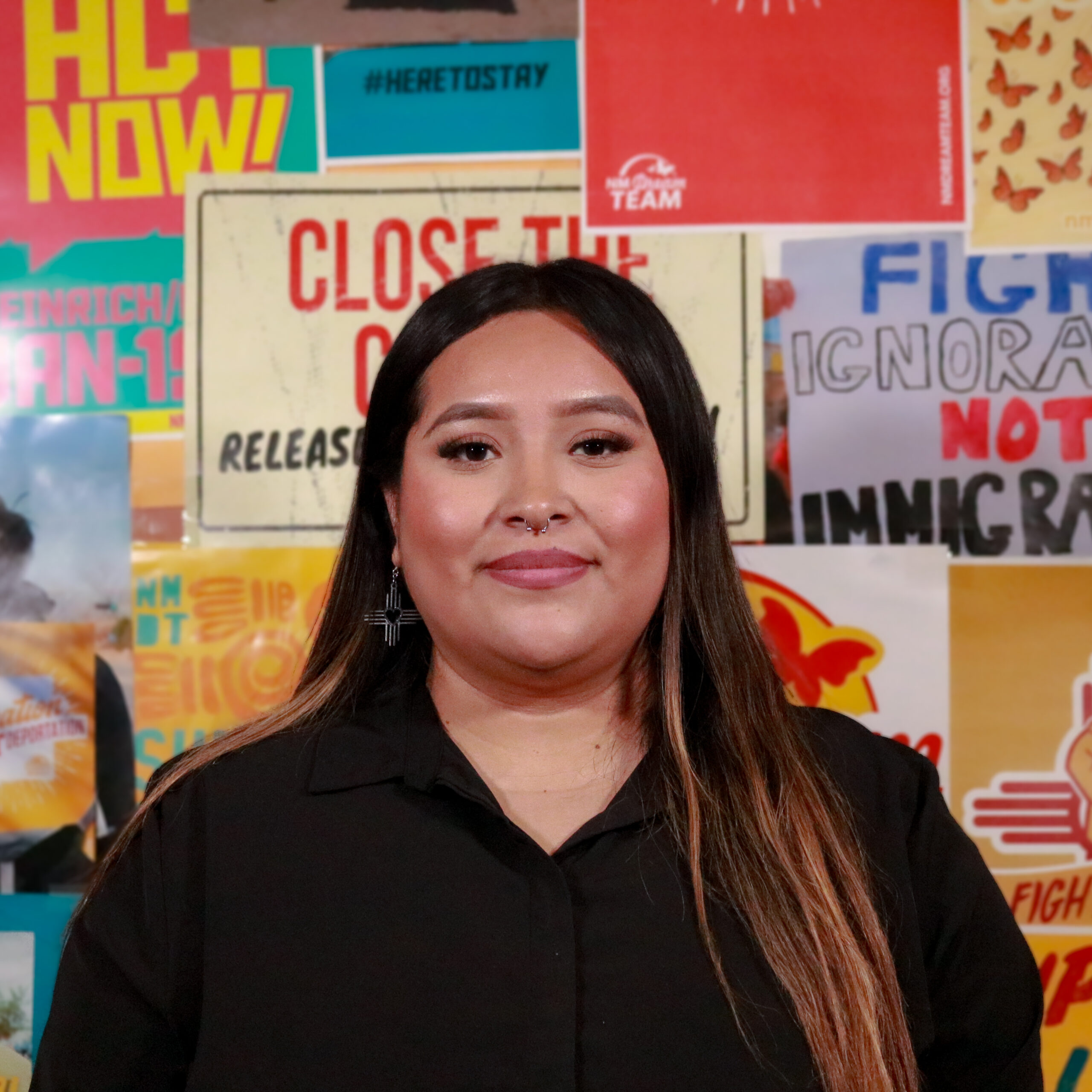 Jocelyn Estephanie Barrera (She/Her/Ella)
Northern NM Field Organizer
Jocelyn was born in Guanajuato, Mexico but was raised in Michoacan Mexico until the age of four. In 2004 Jocelyn along with her two siblings and mother immigrated to the United States where she has lived since then. Jocelyn always lived in fear of possibly being ripped apart from her family throughout her middle school years and half of high school. Jocelyn became a part of the New Mexico Dream Team early 2018 were she found comfort in herself and around others with similar stories to hers. She is now the field organizer with the New Mexico Dream Team with a hope of being a resource to her immigrant community.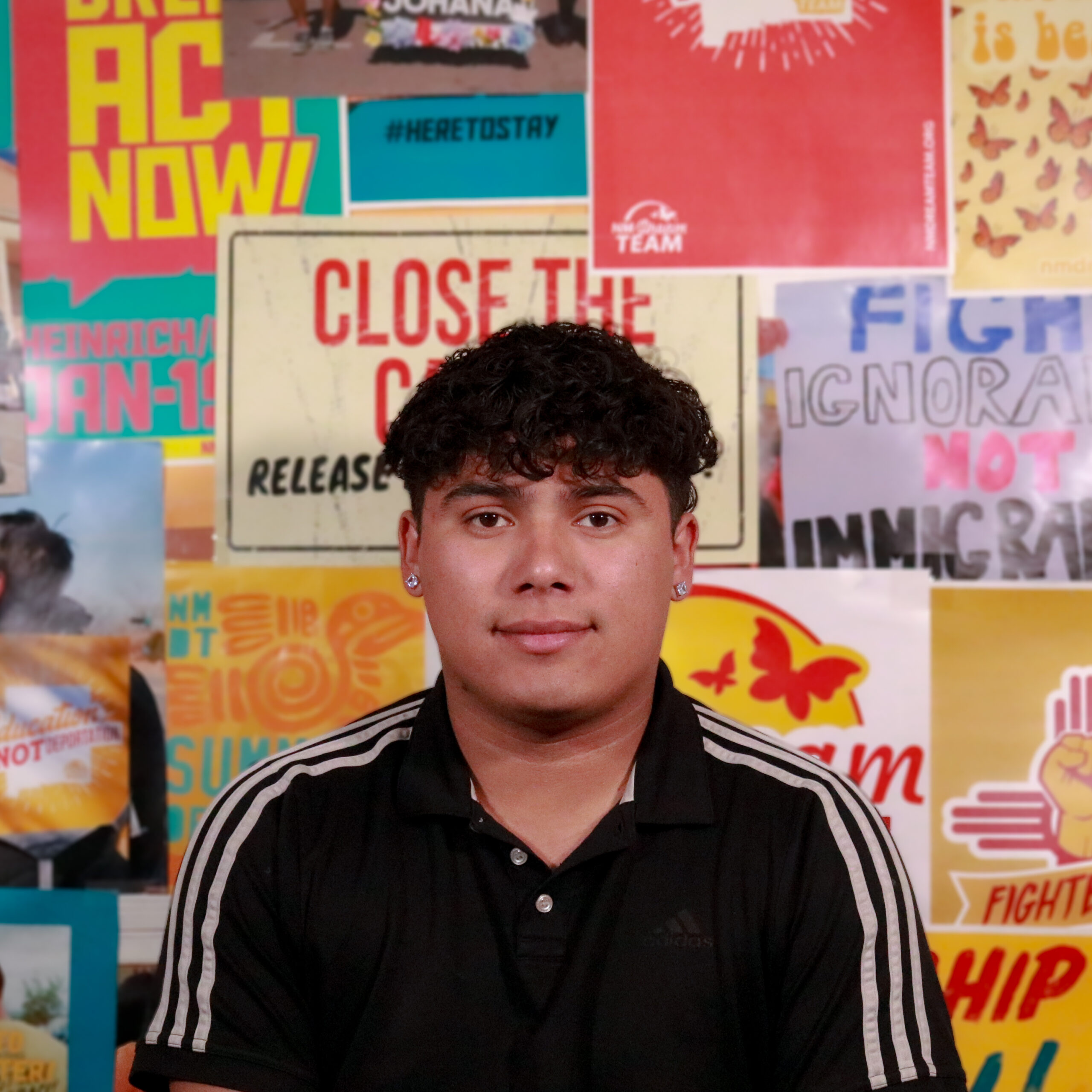 Jason Castro Murguia (He/Him/His)
Central NM Field Organizer
Jason is a 22 year-old young man who came to the United States with his two sisters and his mother in 2010 pursuing the dream of having a better life without fear, with more opportunities, and a better future. Jason started as a member of the Rio Grande Dream Team chapter and eventually became the RGDT chapter lead. He got distance from organizing but his passion brought him back as the central NM field organizer.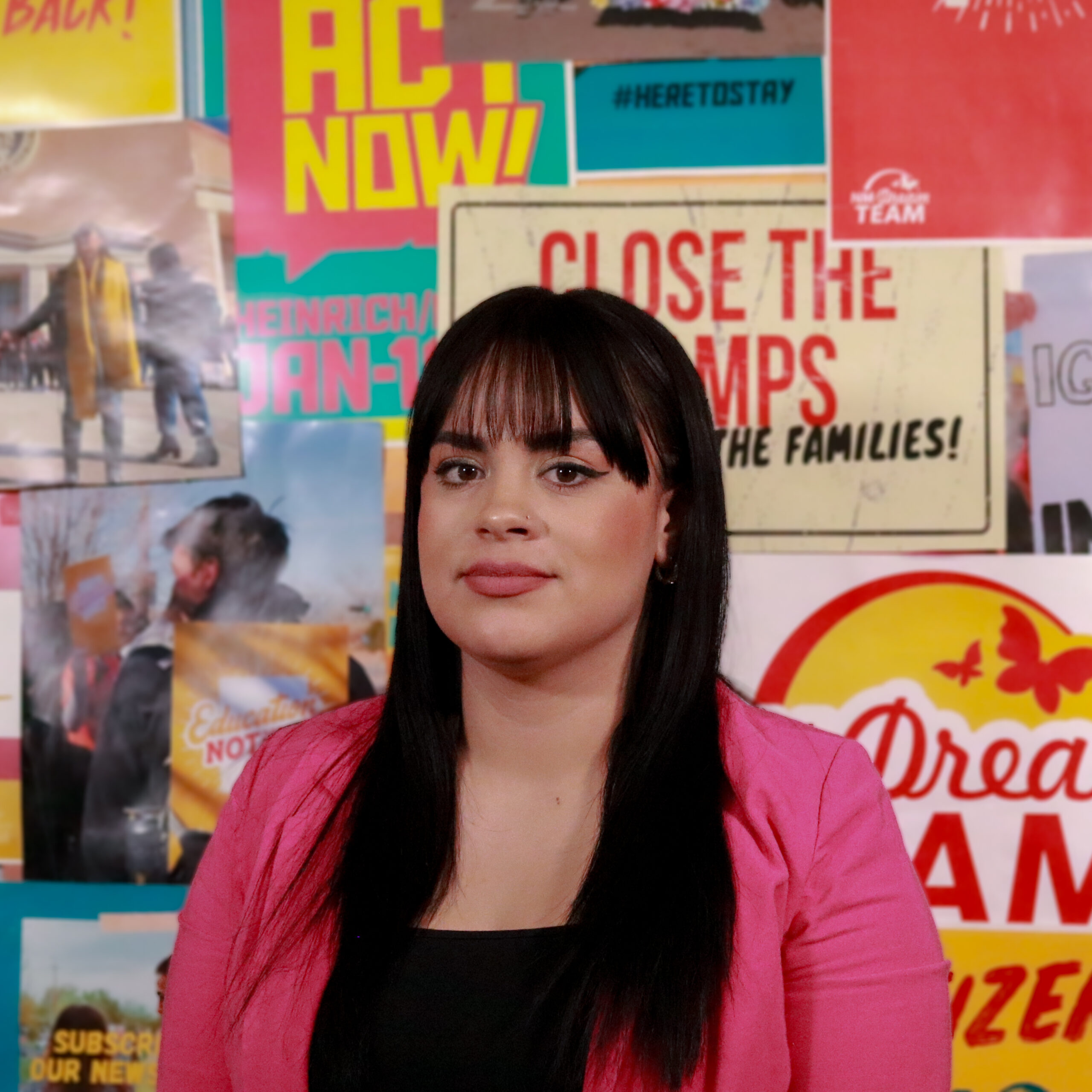 Itzayana Banda (She/Her/Ella)
Communications Manager
Itzayana, from Sotomaynez, Chihuahua, Mexico immigrated to Albuquerque, New Mexico at the age of 3 alongside her family. In December 2011 her father got deported. After working for the 2020 Census GOTV campaign she saw the lack of information and how scared the community really is and it reminded her of herself and how afraid she was to even apply for a job because she was undocumented. Itzayana got really interested in helping her community and letting them know they have rights, but most important that they are not alone.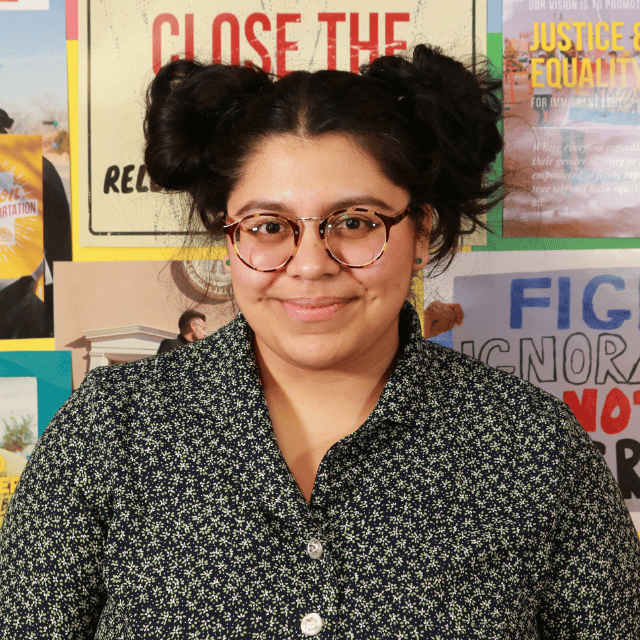 Karen Campa (She/Her/Ella)
Digital Organizer
Karen is an undocumented woman of color living in Albuquerque, New Mexico. She immigrated with her family from Ciudad Juarez in 2006 at the age of six. Karen started organizing for the community when she was 14 years old. She began her organizing journey with Young Women United, now known as Bold Futures- as part of a youth circle for young women of color. Through Young Women United she found out about the New Mexico Dream Team and she started to get involved with them in the Summer of 2018. Her role consists of making creative content that tells the stories of our community and making sure the NMDT brand is reflective of each unique experience of NMDT's members across the state.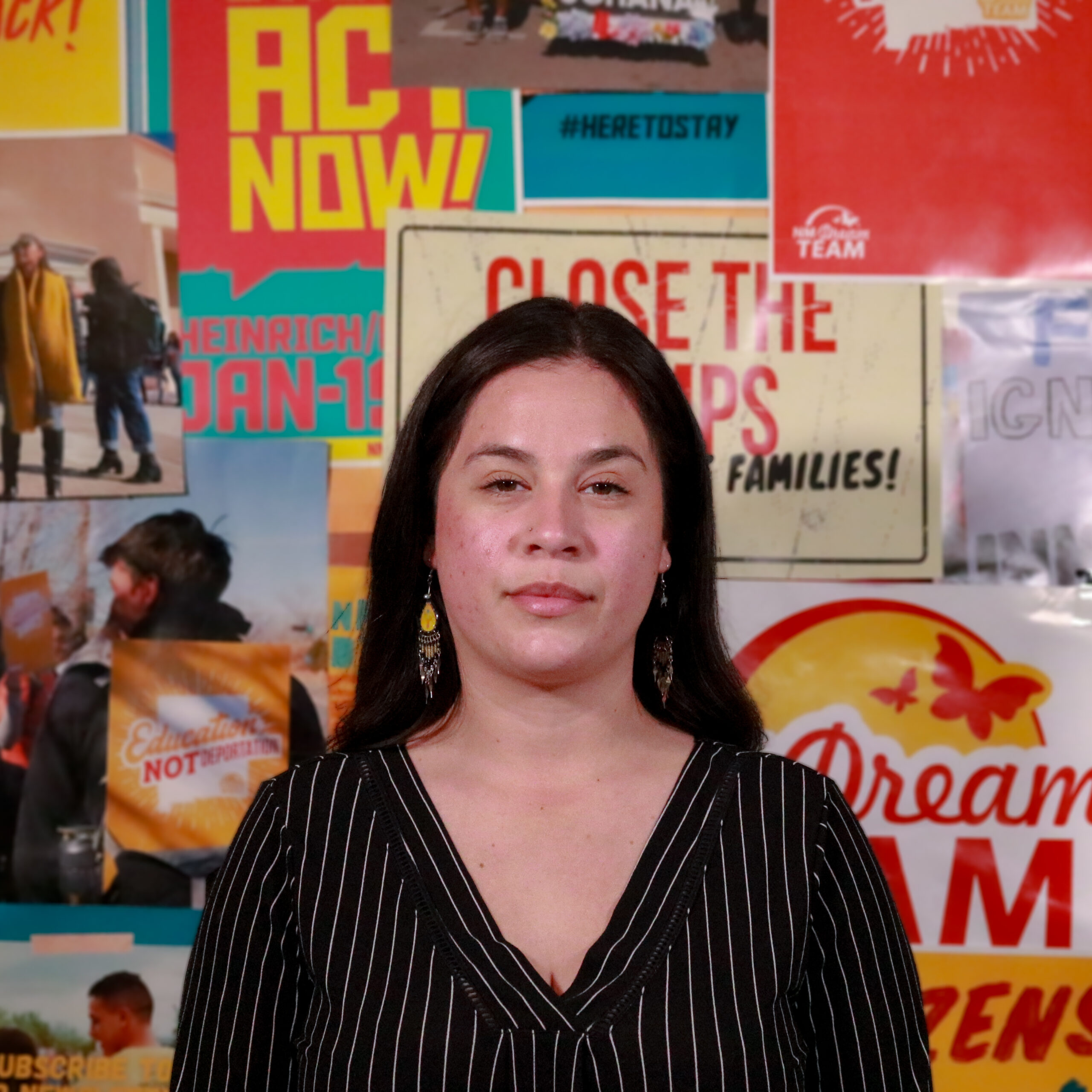 Janeth Antillon (She/Her/Ella)
Programs Manager
Janeth Antillon was born in Cuauhtémoc Chihuahua Mexico. She immigrated to the United States when she was 7 years old alongside her family. After living approximately four years of her life in AZ her family decided to move to New Mexico where it is currently her home. Janeth was fortunate to qualify for DACA in 2012. She started her journey with the New Mexico Dream Team in 2016 and soon became a Field Organizer to now the Programs Manager of NMDT.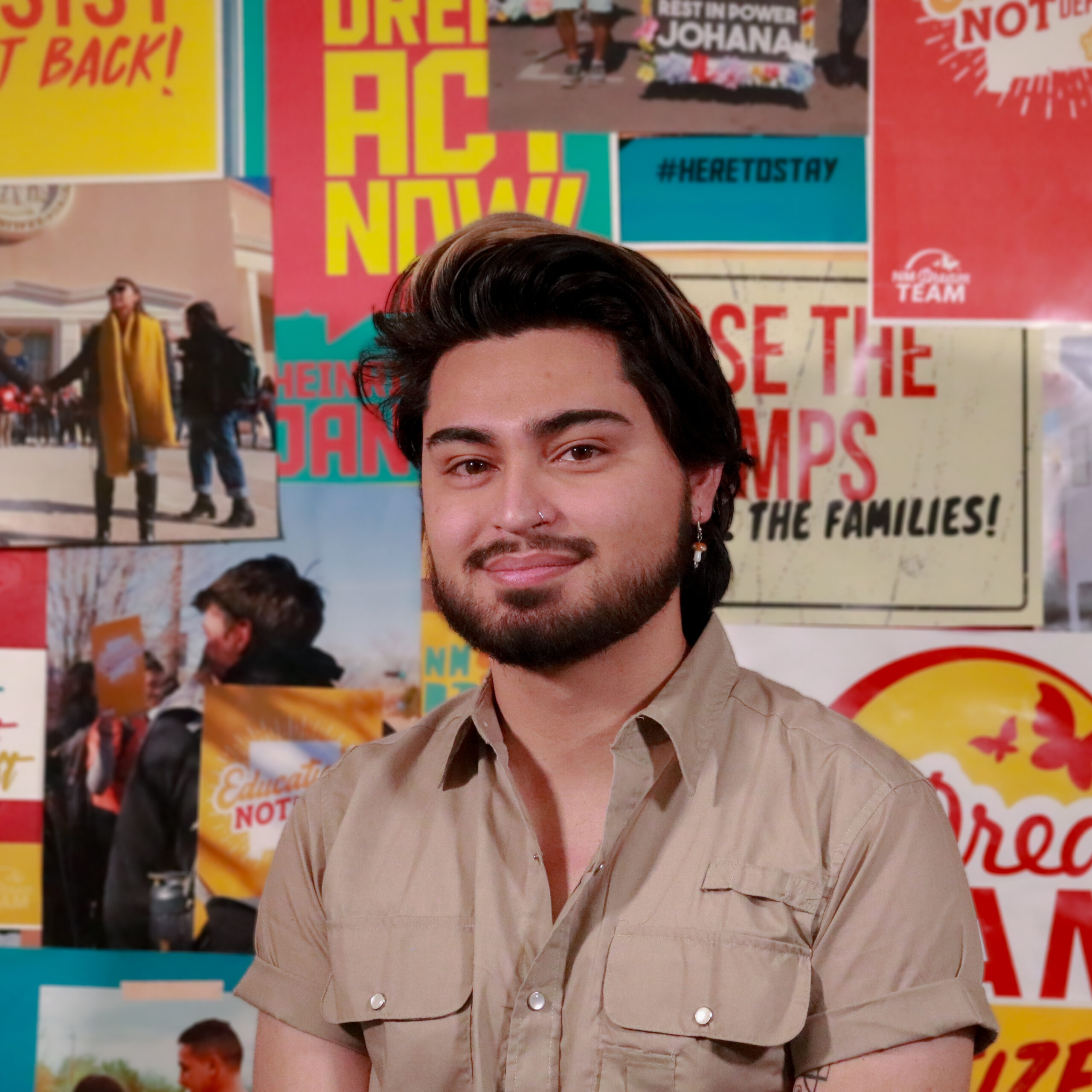 Cesar S. Lezama (He/Him/El)
Economic Justice Organizer
Cesar was born in Veracruz, Mexico. He moved to Albuquerque, NM at the age of 12 with his parents and his sister. He began attending school and eventually graduated from Manzano High School in 2018. He began pursuing his degree in music at the University of New Mexico, though he has since changed it into a degree in psychology. Because of his upbringing and status, Cesar has cultivated a strong empathy for marginalized groups and delved into literature and sociological theories to gain a stronger understanding of the inequities and injustices in the system. He remains an ally to all marginalized groups and hopes to one day see the liberation of all peoples through pertinent and sufficient social and legislative action.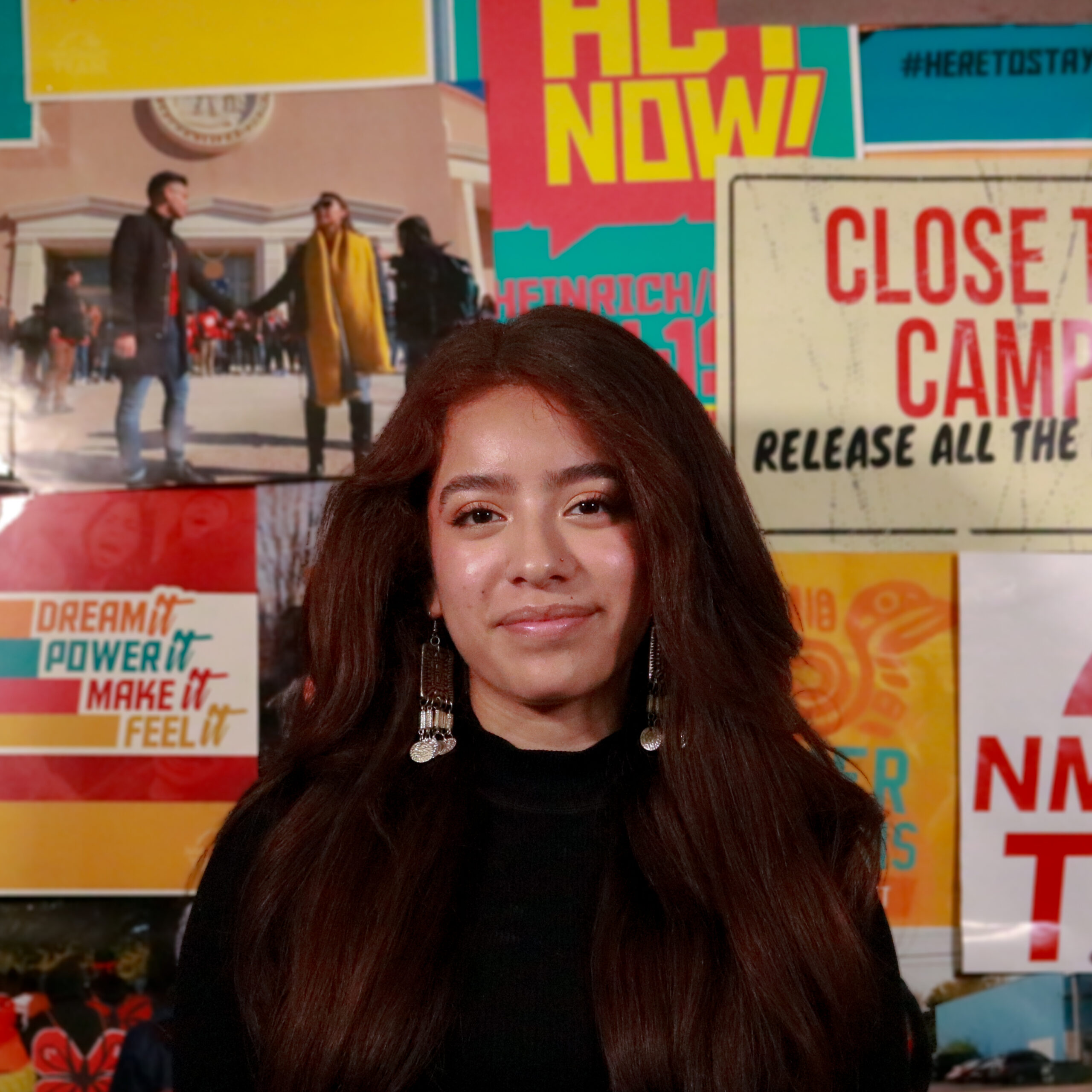 Aailinn Martinez (She/Her/Ella)
UndocuHealing Organizer
Aailinn immigrated to the United States from Mexico when she was very little, therefore she has never known her home country. Aailinn feels very fortunate to have parents who have sacrificed leaving their homeland because of the dream they had for her and her siblings to have the opportunity to have a brighter future in the United States. She has seen her family struggle and knows what hard work is because of them. She wants to help people by becoming a social worker. Being part of the NMDT is learning how to be part of the change within the immigrant community. Learning the lesson that we need to come together as a community and organize, that is when change happens.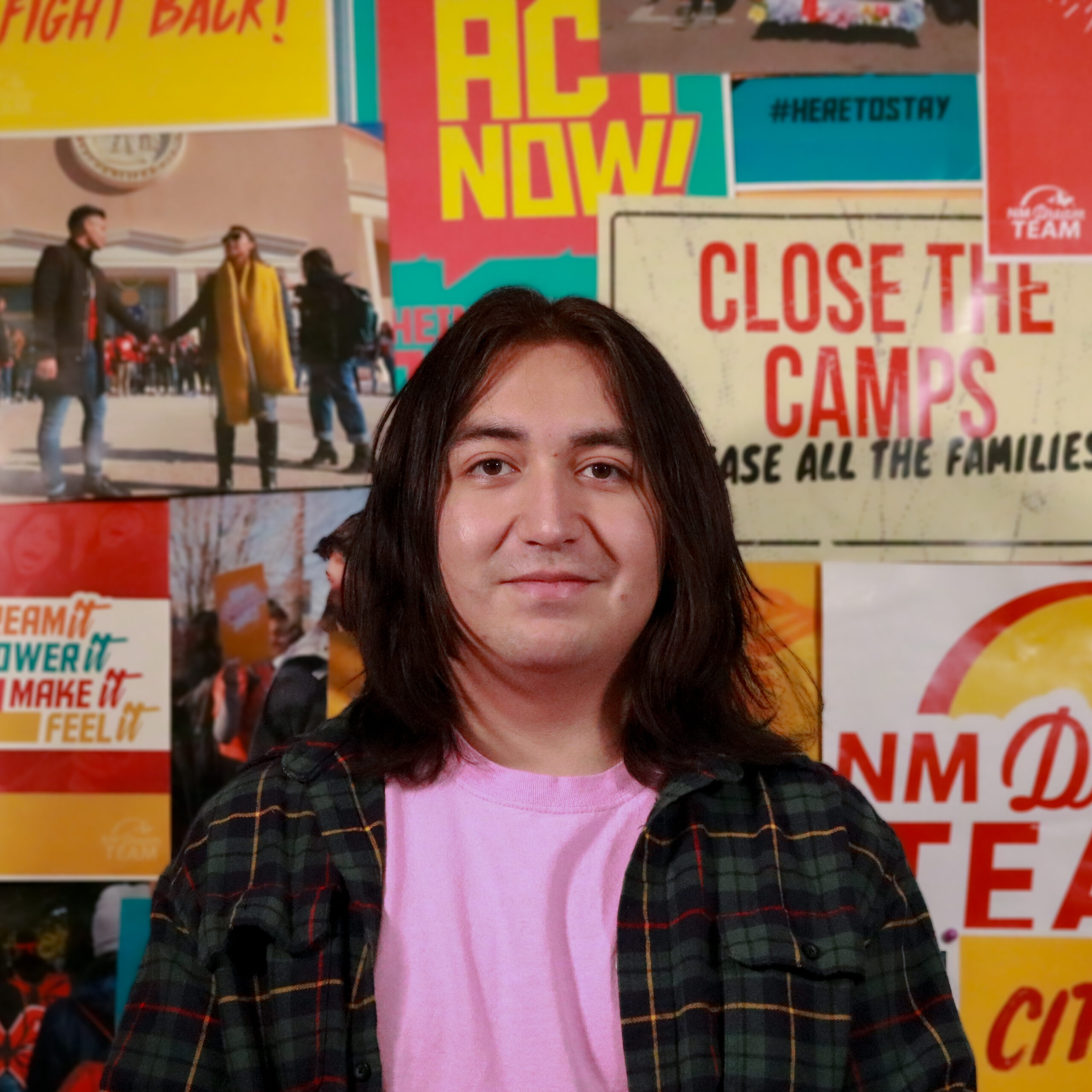 Andres Esquivel (He/Him/His)
Education Justice Organizer
Andres Esquivel was born in Chihuahua, Chihuahua, and migrated to Albuquerque when he was two years old with his family. Esquivel grew up in the South Valley and graduated from Albuquerque High School in 2017. Esquivel graduated from UNM in Fall 2020 with a Bachelors in Political Science with a minor in Chicana/o Studies. Esquivel has been the Education Justice Organizer with the NM Dream Team since 2019. Besides social justice, he is also passionate about music and art.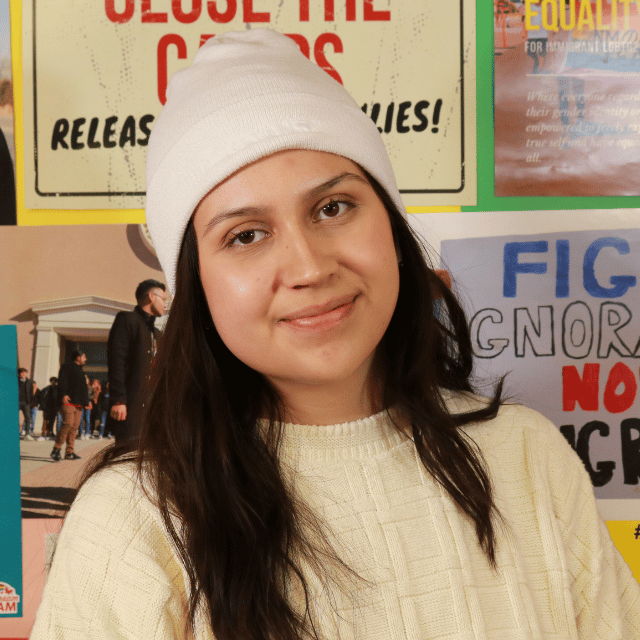 Karina Tarango (She/Her/Ella)
Education Justice Organizer
Karina was born in Ciudad Juarez, Chihuahua Mexico. After she turned one, her father, mother, older brother, and her migrated to Santa Fe, NM. For all of her early education, she was always very shy and would never share any status with her teachers unless she had to. Up until her senior year of high school, she realized the limited opportunities she had as an undocumented student. Discovering this was sad because all her parents hoped for her was to attend a higher education so that she may have a better job. Despite the financial struggles, during the Fall of 2020, she started attending the University of New Mexico majoring in Elementary Education with a minor in Bilingual Education. Karin's hope is to become a teacher in her community of Santa Fe and create a safe space for undocumented students like herself.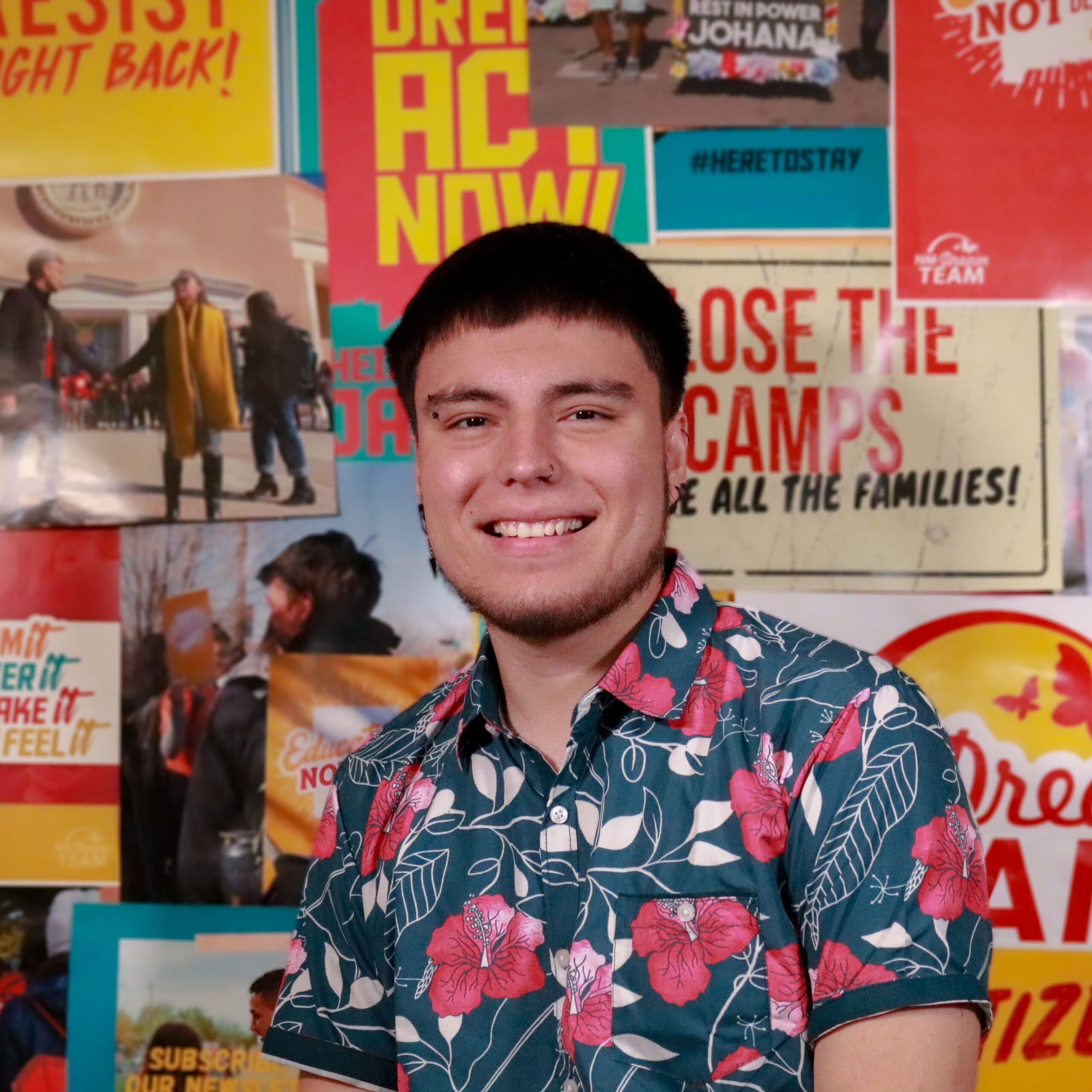 Bryan Avila (He/Him/El)
UndocuQueer Organizer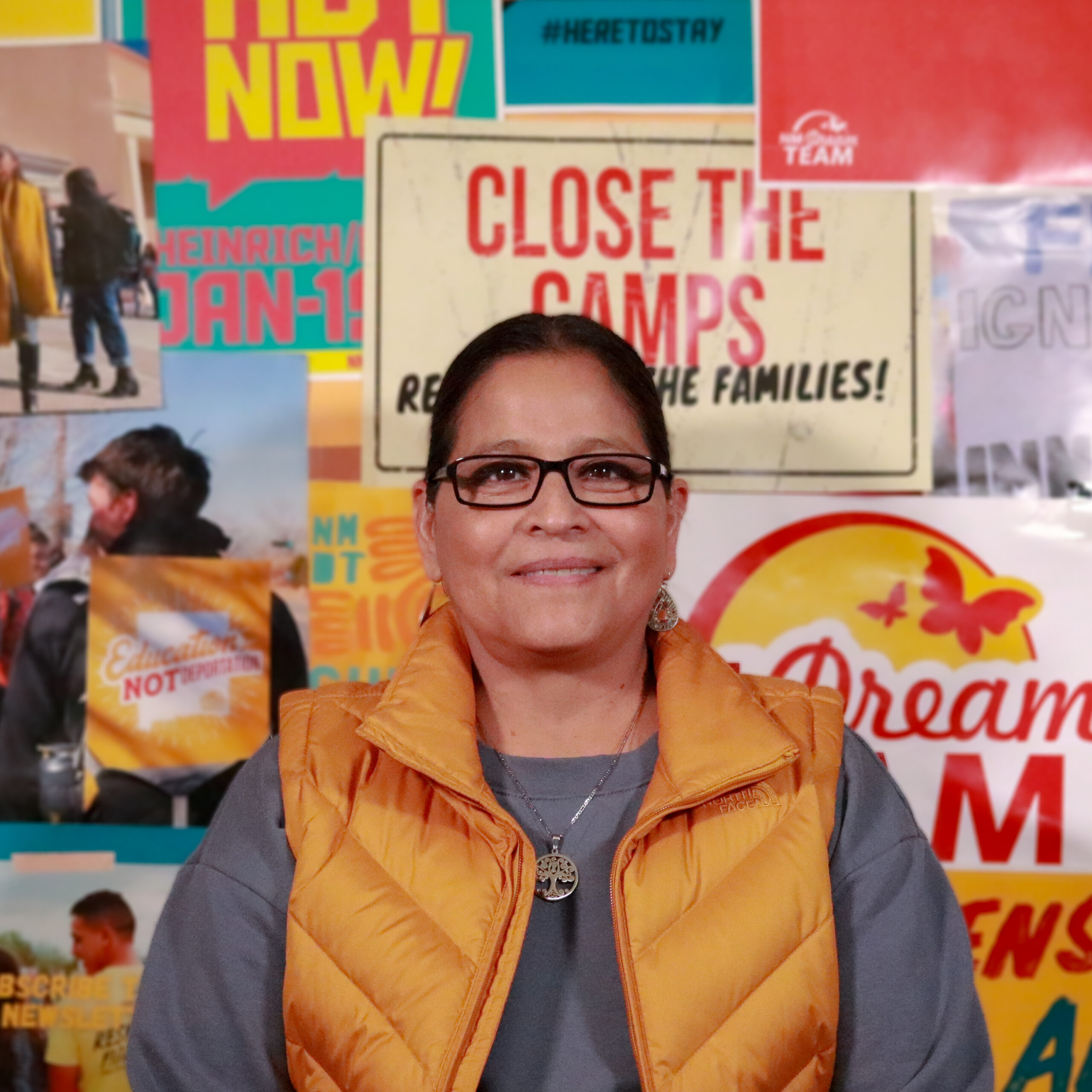 Erendira Navarro (Ella/She/Her)
Development & Operations Manager
Erendira nació en Gómez Palacio, Durango Mexico. Erendira estudio Técnico Laboratorista Industrial en México y un año de Universidad en la especialidad de Química en Alimentos. Trabajo en la Facultad de Zootecnista y Agricultura como encargada de Laboratorio, en los laboratorios de Tyson y en la Fábrica de Motores Renault. Erendira formó una familia en el año de 1985 de la cual tiene 3 hijos y a su compañero de vida Gerardo De Luna Rodriguez. Emigró a los Estados Unidos en el año 2005. Erendira formó su propio negocio de House Keeping y trabajo en el área de contabilidad en Morada Latina Erendira obtuvo su diploma Aztec Home Schooling. Erendira también se graduó del programa Public Ally donde aprendió a crecer como líder.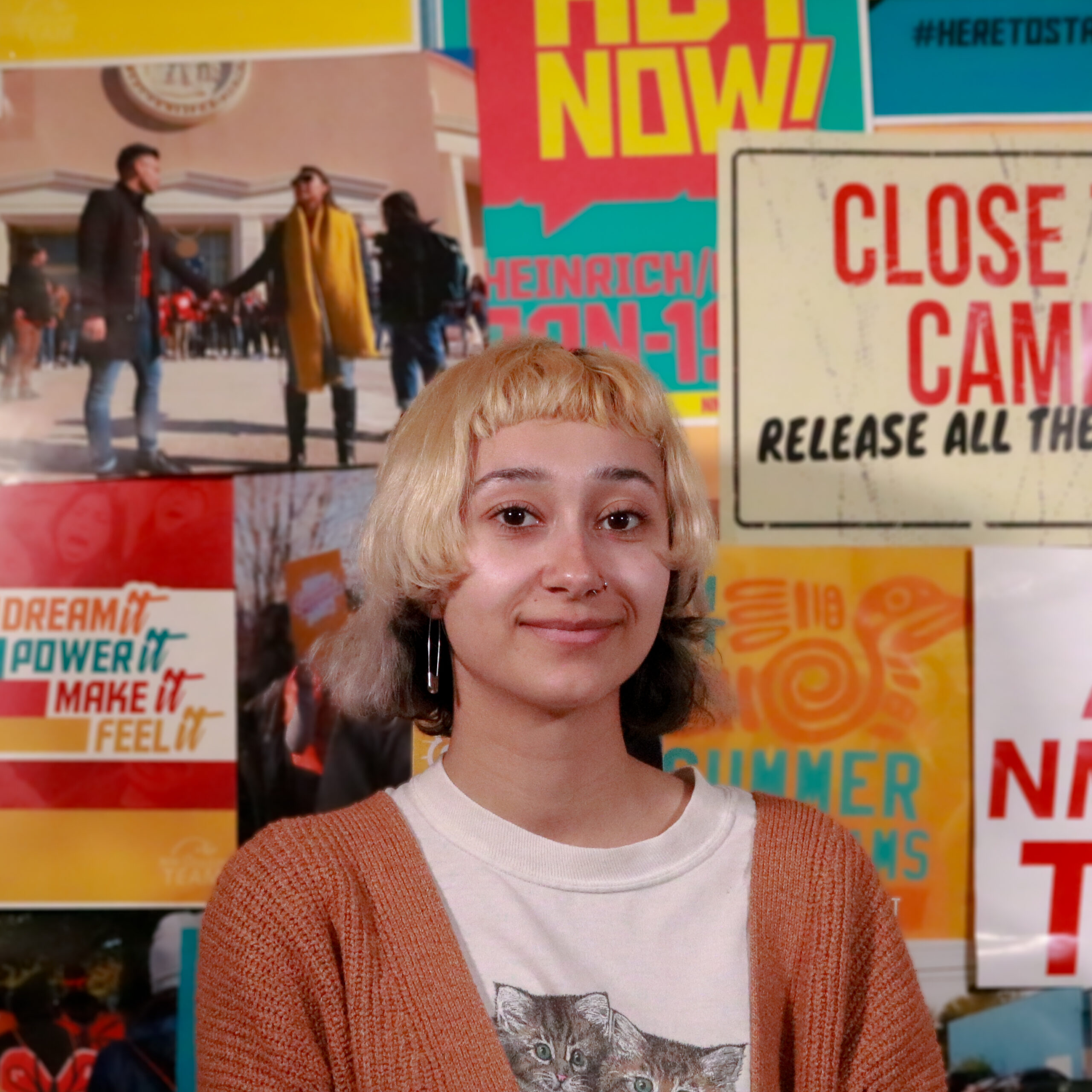 Jessica Ramirez Morales (She/Her/Ella)
Development and Operations Organizer
Jessica was born in Santa Fe, NM to parents from Cuauhtémoc, Chihuahua, who migrated to the United States in the 90s. Jessica was raised in Santa Fe and graduated from Santa Fe High School in 2018. She then went on to graduate with a Bachelor of Arts in Psychology and a minor in French from The University of New Mexico in 2022. Jessica has always been passionate about fighting for immigrant rights. She is also passionate about music, art, and self-expression.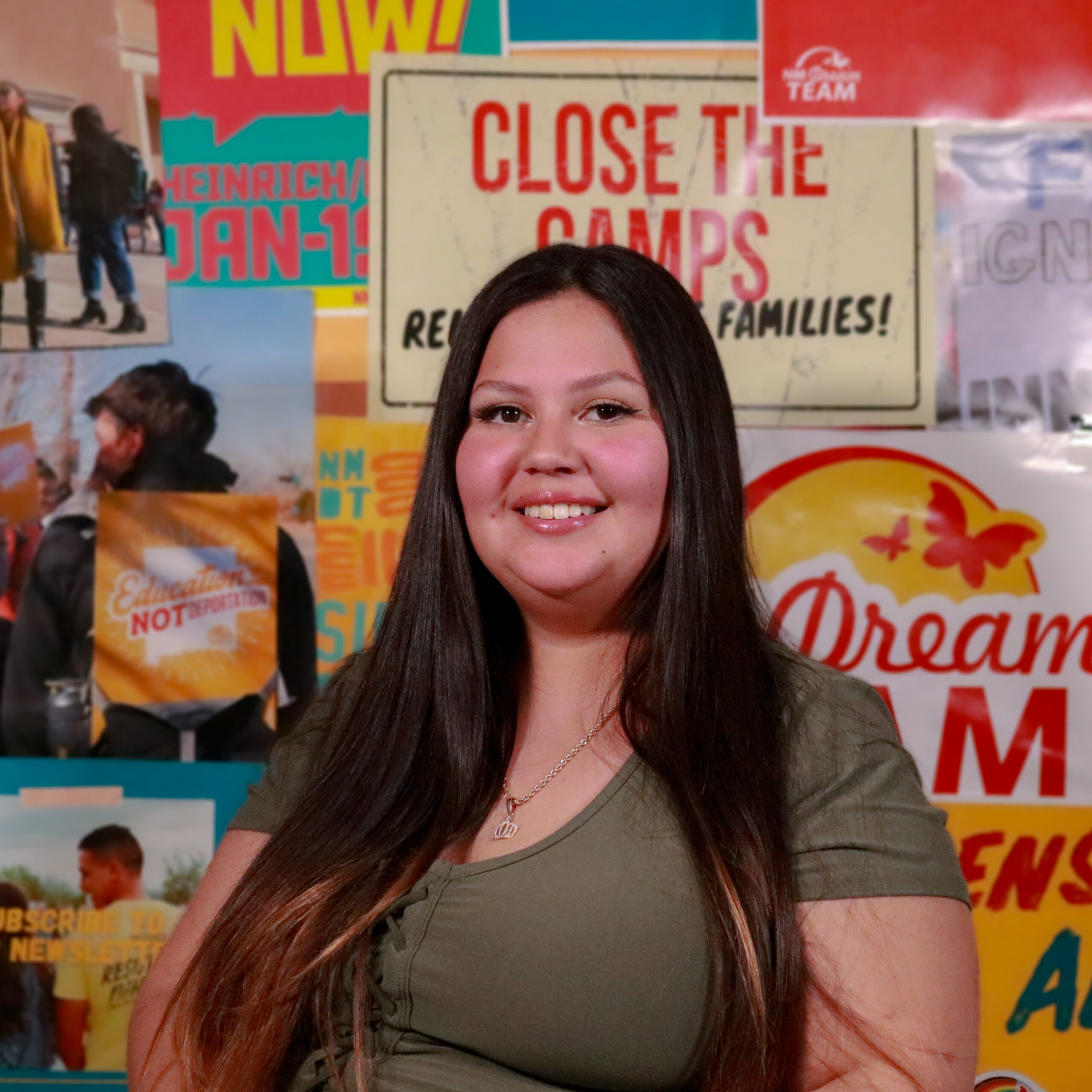 Nadia Lopez (She/Her/ Ella)
Office Assistant
Nadia tiene 24 años y es originaria de la CDMX, madre, esposa e hija indocumentada, parte de la comunidad LGBTQ+, luchando por un mejor futuro para su comunidad, y su familia. Llego a los Estados Unidos cuando tenía 14 años y al pasar de los años se dio cuenta cual es su objetivo y motivo de pelear. Una comunidad llena de oportunidades para nuestra gente indocumentada, todos somos uno cuando nos unimos, y eso ninguna frontera o color de piel lo puede cambiar. Uno de los mayores objetivos es enseñarle a su hija que está en un país libre, donde todos somos uno solo, donde ella se sienta libre de salir sin miedo a ser discriminada por su color, por su sangre latina, y eso solamente se puede lograr buscando un cambio y actuando para lograrlo.
Join our mission. Volunteer, Donate, Advocate. Get Started Today!